Is your child struggling with anxiety? Are you looking for information and guidance about treatment options? Have you ever wondered what Judaism teaches us about how we can pivot from anxious to calm? If these are questions that you are grappling with please join us for a free, four-part series that addresses these very issues.
SESSION 1
Supporting Youth with Anxiety through a Jewish Lens
Tuesday, August 15, 7pm – 8pm on Zoom
presented by Mel Berwin, Director of Congregational Learning, Congregation Neveh Shalom
What can we do as parents when our kids are showing signs of anxiety or depression? Come learn some hallmark unhealthy thinking patterns, as well as language we can use to help shift those patterns—language straight from our Jewish tradition that offers a healthier way to view ourselves and the world around us.
SESSION 2
A Taste of SPACE (Supportive Parenting for Anxious Childhood Emotions)
Tuesday, August 22, 7pm – 8pm on Zoom
presented by Laura Cohen, LCSW, ACSW, Child and Family Therapist, JFCS
SPACE is a treatment model that focuses on the parents of kids managing life with anxiety. SPACE teaches parents skills and tools to change their own behavior in order to help their child better manage their anxiety. Join us for a preview of this innovative approach and see if SPACE is something that might help your family.
SESSION 3
Finding the Appropriate Mental Health Professional for Your Child
Tuesday, August 29, 7pm – 8pm on Zoom
presented by Dan Rothenberg, LCSW
Learn to recognize the differences between a variety of therapy and life-coaching techniques to help parents find the right fit for their teen or young adult.
SESSION 4
Panel Discussion
Tuesday, September 5, 7pm – 8pm (in-person)
at Eastside Jewish Commons, 2420 NE Sandy Blvd, Portland
facilitated by Mel Berwin, Laura Cohen, and Dan Rothenberg
Join us in person for a chance to ask specific questions, connect with our presenters and other families managing similar challenges in small breakout groups.
No cost to attend. Registration is required. For more information please email Mel.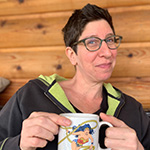 Mel Berwin
Director of Congregational Learning, Congregation Neveh Shalom
Mel is a lifelong Jewish learner and educator. Her other full-time job is parenting three young adults, all of whom have dealt with significant mental health challenges. In her free time, you can find her communing with herons in our local wetlands.

Laura Cohen, LCSW, ACSW
Child and Family Therapist, Jewish Family & Child Service
Laura Cohen is JFCS' child and family therapist. In this capacity, she provides support and counseling to children, teens, families and groups. As a master's level social worker with 30 years' experience, Laura's diverse background includes delivering clinical services and supervision, as well as program development and management in a variety of settings. Laura approaches therapy from a strengths-based, trauma-informed perspective whose foundation is Jewish philosophy and values.

Dan Rothenberg, LCSW
Therapist and Teen Resiliency Coach
Following a career as a standup comedian and playwright, Dan earned his LCSW and became a therapist specializing in teens, young adults and families. Dan currently has a local private practice that offers therapy and success coaching. You can find Dan at oneyoucoach.com and on his parenting podcast, What Did I Say…? everywhere you find podcasts. Dan works in person and virtually.