Navigating your Children's Mental Health Challenges:
A Parent Support Group
Join us the first Monday of each month to connect with other parents experiencing similar challenges and to learn more about relevant topics relating to mental health in children and youth. 
The first part of each evening will be facilitated by presenters from our Anxiety Series and will offer an informal opportunity to check in, connect and share with other parents. The second part of each evening will be led by a guest speaker who will share their wisdom and expertise on topics that resonate with so many of us.
Our first session will be held October 2, 2023, 7:00 pm – 8:30 pm
 7:00pm – 7:45pm Support Group/Check in
7:45pm – 8:30pm Guest speaker Scotti Weintraub, founder of Reframe Parenting,

on Navigating School Success 
at the Eastside Jewish Commons located at 2420 NE Sandy Blvd.
We hope to see you there!
No cost to attend. Registration not required. For more information please email Laura Cohen.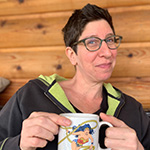 Mel Berwin
Director of Congregational Learning, Congregation Neveh Shalom
Mel is a lifelong Jewish learner and educator. Her other full-time job is parenting three young adults, all of whom have dealt with significant mental health challenges. In her free time, you can find her communing with herons in our local wetlands.

Laura Cohen, LCSW, ACSW
Child and Family Therapist,
Jewish Family & Child Service
Laura Cohen is JFCS' child and family therapist. In this capacity, she provides support and counseling to children, teens, families and groups. As a master's level social worker with 30 years' experience, Laura's diverse background includes delivering clinical services and supervision, as well as program development and management in a variety of settings. Laura approaches therapy from a strengths-based, trauma-informed perspective whose foundation is Jewish philosophy and values.

Dan Rothenberg, LCSW
Therapist and Teen Resiliency Coach
Following a career as a standup comedian and playwright, Dan earned his LCSW and became a therapist specializing in teens, young adults and families. Dan currently has a local private practice, OneYou Coaching and Counseling, that offers therapy and resiliency coaching. You can find Dan at oneyoucoach.com and on his parenting podcast, What Did I Say…? everywhere you find podcasts. Dan works in person and virtually.