Jewish Family & Child Service was formed in 1947 when the Jewish Shelter Home and the Jewish Service Society merged.
The Jewish Shelter Home was incorporated in 1920 for the purpose of providing a home with a wholesome and cheerful atmosphere for children in need. Records indicate that every effort was made to give the children good care. Their menu was varied, clothing was carefully selected, medical and dental care were provided, birthdays were celebrated, Jewish holidays were observed and the children attended public school as well as Sunday school classes.
In the 1920's the Jewish Service Society was formed as a multi-purpose agency. The Society was funded by the Community Chest and the Hebrew Benevolent Society, and worked in conjunction with the Federated Jewish Society to provide for the needy.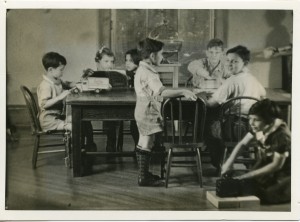 During the Depression, the Jewish Service Society gave financial assistance to numerous single people and families, many of whom were transients. The Society also organized an "Opportunity Bake Shop" in the early 1930s to supplement meager family incomes by providing work for women who were able to leave their homes during school hours. In the late 1930s, when an increasing number of people were receiving public assistance, the agency began working with the Public Welfare Department to assist needy Jewish families.
During World War II, the need for financial aid was sharply reduced, and the Jewish Service Society began addressing such community problems as juvenile delinquency and housing shortages. Shortly thereafter, the Society began giving aid to the many Jews who immigrated to America during the Nazi occupation of Europe.
In 1947, the Jewish Shelter Home merged with the Jewish Service Society, combining financial assets and ideologies and taking the name Jewish Family & Child Service (JFCS).
Today, individuals and families of all backgrounds and stages of life in the Portland metro area benefit from our services.