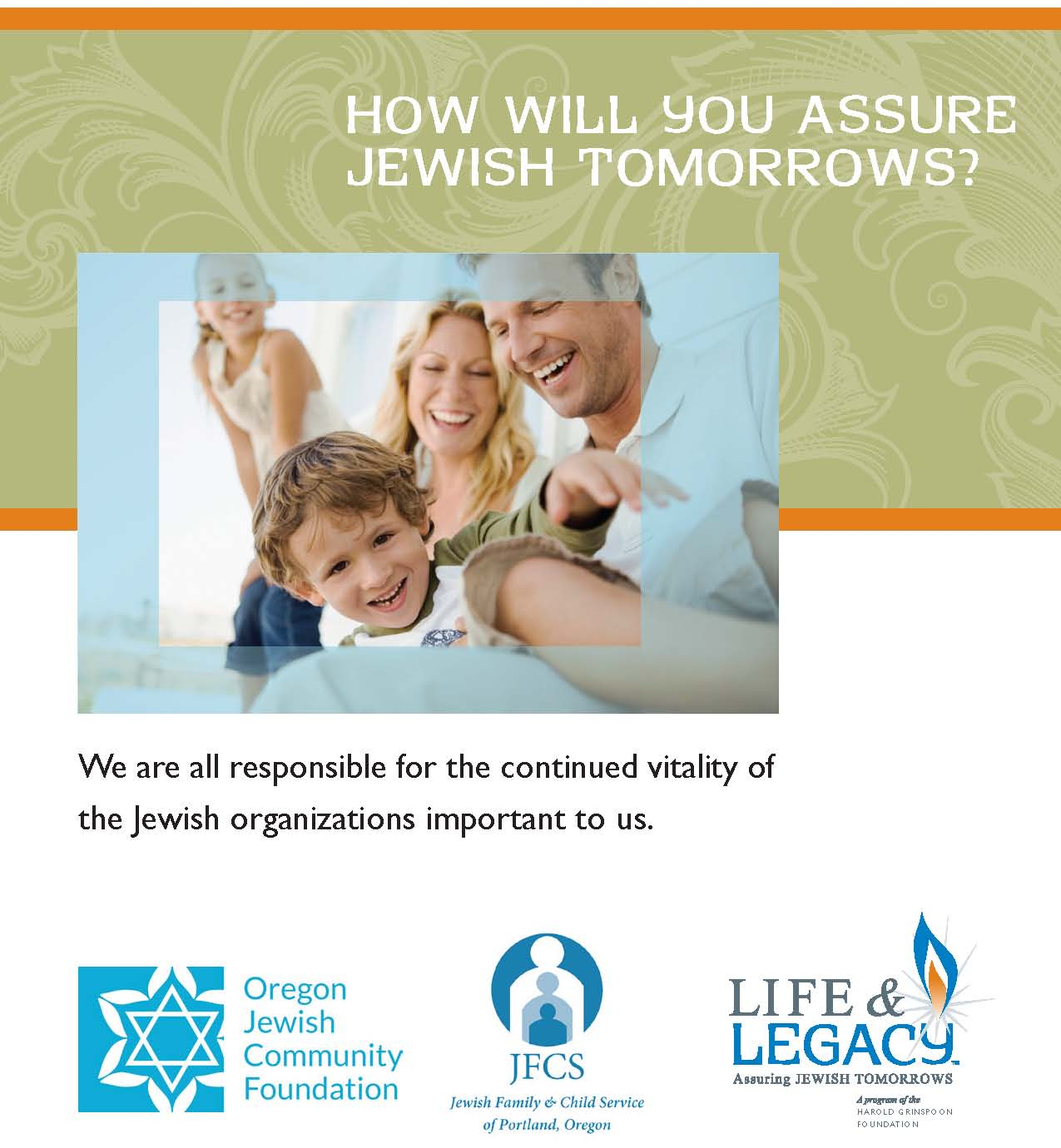 Jewish Family & Child Service is proud to be one of the ten organizations selected in Oregon and SW Washington to participate in LIFE & LEGACY, a partnership of the Harold Grinspoon Foundation and the Oregon Jewish Community Foundation. The program promotes after-lifetime giving to benefit and build endowments for local Jewish day schools, synagogues, social service agencies, and other Jewish entities.
A legacy gift through your will or estate plan will help to ensure that JFCS is here to serve our community for generations to come and the values that are important to you will thrive into the future. With your gift, you will become a member in the JFCS Legacy Society:
Anonymous (3)
Ron & Judy Applebaum
Gloria Bacharach*
Stephen A. & Toby F. Blake
Gerel Blauer*
Stephen & Beverly Bookin
Kathy & Norman Chusid
Nathan F. Cogan
Lee & Sheri Cordova
Susan Danielson
Richard Dobrow
Jenat & Howard Feldman
Bob & Lesley Glasgow
Helaine Gross & Paul Norr
Lesley Isenstein & Steve Laveson
Randy Katz
Ruben & Elizabeth Menashe
Michael J. Millender
Alan & Lana Miller
Leah Nepom*
Dale Oller
Ray & Dorothy* Packouz
Gary & Sylvia Pearlman
Eve & Alan Rosenfeld
Madelle & Stan Rosenfeld
Sally Rosenfeld & Andrew Frank
Elaine Savinar
Michael Simon
Les* & Martha Soltesz
Corinne & Larry Spiegel
Menachem Teiblum*
Larry Volchok
Jennifer & Ken Zeidman
*Of blessed memory
It's easier than you think and more meaningful than you know:
There is no minimum amount required.
Your legacy gift can be directed to a specific JFCS program.
Your legacy gift can be funded during your lifetime or distributed from your estate.
To learn more about how to create your Jewish Legacy, please contact Ruth Scott, Executive Director, at 503-226-7079, ext.113.