Disability Support Services
Access for all abilities
Disability Support Services' near-term focus and longer-term initiatives are:
Continued mental-health support through our Community Connection and Mental Health Spotlight offerings

.

Resource and referral list at our 

Community Support Services page

.

You can search our updated disability community resource list below

The addition of individual mental health services

Training and advocacy focused on strengthening access to services
We also encourage you to explore some of our other groups and offerings. Click here for a schedule of our upcoming Counseling groups.
For more information, click here to contact Disability Support Services.
Community Resources:
Aging and Disability Resources Connection
1-855-ORE-ADRC
Local information for seniors and people with disabilities.
www.adrcoforegon.org
Disability Rights Oregon
503-243-2081 or 1-800-452-1694 between 9 to 11 am or 1 to 4 pm, Monday through Friday.
Disability Rights Oregon helps people with disabilities with their disability-related legal issues in Oregon.
www.droregon.org/intake-request-form
IRCO Disability Legal Services
Email IRCO
971-270-0755
IRCO's Disability Legal Services provides legal representation and support for SSI and SSDI applications for immigrants and refugees from initial applications through to appeals.
Adult Protective Services
Main Line: 503-988-4450
After Hours: 503-988-3646
Multnomah County Adult Protective Services (APS) is the local organization which investigates abuse. Call to report abuse of seniors (older people), or people with disabilities.
Social Security Administration
Application, resources, and information about applying for social security.
www.ssa.gov/applyfordisability/
Oregon Department of Human Services
Find benefits and services from the state of Oregon for children, families, older adults and people with disabilities.
www.oregon.gov/dhs/Pages/index.aspx
Down Syndrome Network of Oregon
DSNO is a leading local resource for Down syndrome support and offers a range of community-based programs to build an outstanding support organization for families, friends and individuals with Down syndrome.
dsno.org
Vocational Rehabilitation: Youth Services
Youth services are for youth, age 14-24 years, preparing for work. With a focus on building skills, exploring interests and learning about community supports.
www.oregon.gov/dhs/EMPLOYMENT/VR/Pages/Youth-Transition-Services.aspx
OSEP – Office of Special Education Programs – Division of US Department of Education content.govdelivery.com/accounts/USED/bulletins/341cbc7
Oregon Department of Education – Mental Health and Well Being
www.oregon.gov/ode/students-and-family/equity/SchoolSafety/Pages/Safe_and_Inclusive_Schools.aspx
Autism Society of Oregon
The Autism Society of Oregon is Oregon's leading organization providing resources, education, advocacy on policy matters, and support for Autistic individuals and their families.
autismsocietyoregon.org
National Alliance on Mental Illness (NAMI)
NAMI provides advocacy, education, support and public awareness so that all individuals and families affected by mental illness can build better lives.
nami.org
Bustin Barriers
Bustin Barriers provides safe physical activities and meaningful socialization experiences for individuals experiencing disability- creating opportunities for participants to have fun and strive toward their personal best.
bustinbarriers.org
Mt. Hood Kiwanis Camp
Mt. Hood Kiwanis Camp offers outdoor recreational programming for campers with developmental, intellectual, and physical disabilities at its fully accessible 22-acre campsite in the Mt. Hood National Forest. mhkc.org
Click here for more community resources.
Families care for and support one another. Family is at the core of Disability Support Services (DSS). Watch the moving video above from Fall 2022 for a peek into how DSS has carried out its crucial work for clients.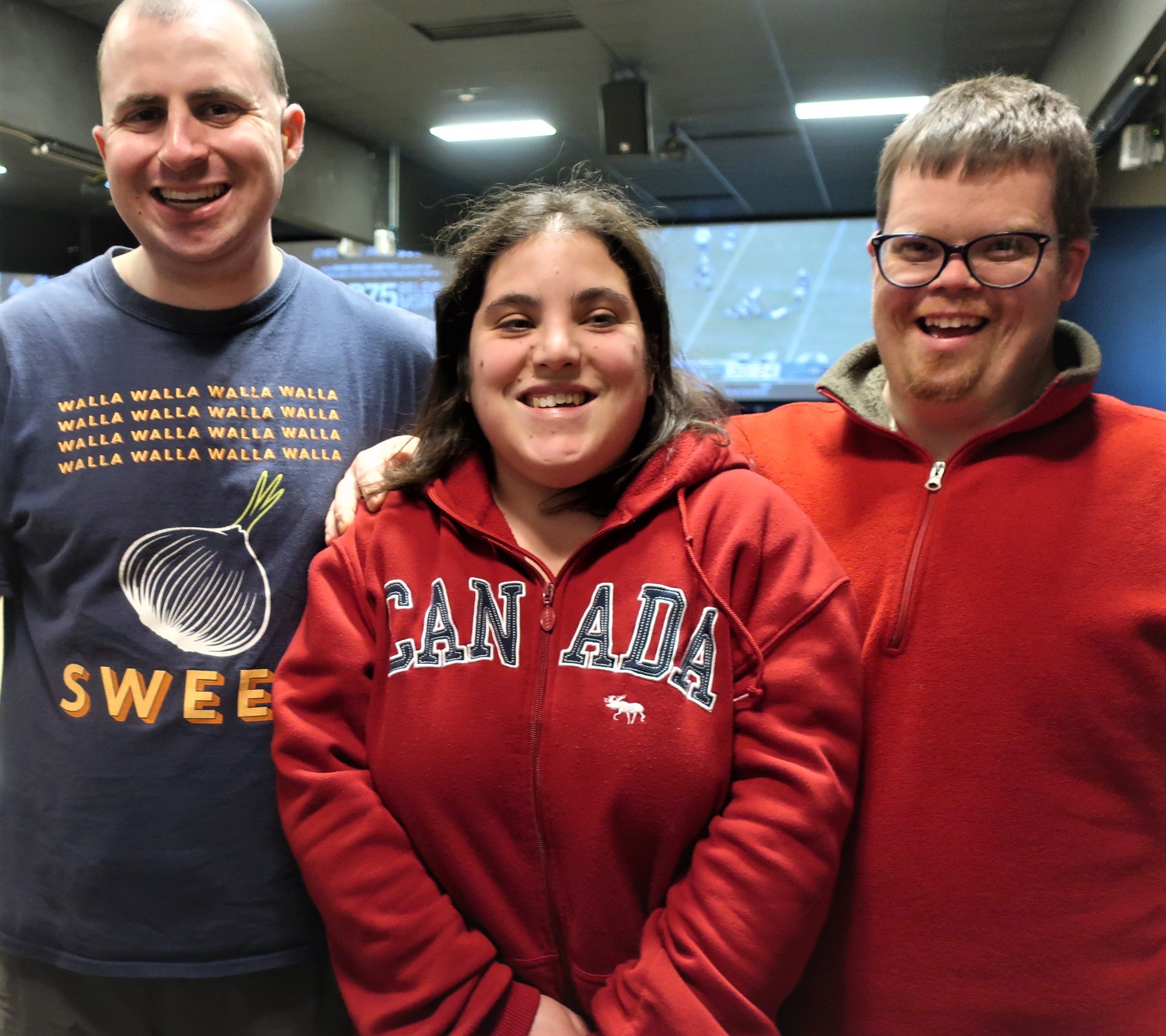 The Disability Support Services' tagline says it all: Access for all abilities.
But what does that actually mean? 
Access means that all spaces in which one dwells are available to the person using, engaging with and existing in them.
Physical, technology and social spaces all must be accessible to everyone. And that includes our clients, who are adults with physical or developmental disabilities and parents and guardians who care for a child or children with disabilities.
Further, "access" means more than removing barriers to entry (like a ramp to a front door). Access means making everything we do actively welcoming and approachable, usable, accessible. 
Shayna Sigman, Disability Support Services Manager, says, "And we use the word 'abilities' because we take a strength-based approach to our work and we focus on all that our clients can do." 
Importantly, our DSS program advocates, via partnerships and referrals, for access for all abilities in other Jewish institutions, too. Accessibility for all means exactly that. 
Disability Support Services
"I'm 75, and my son is 50. Help from JFCS is indispensable as we plan for the years ahead."