Holocaust Survivor Services
Surrounding our community with care
JFCS' Holocaust Survivor Services (HSS) is not about real estate. But one very tenacious real estate agent  is the reason our program, on which 78 people in greater Portland rely, exists today.
Rita Shmulevsky – whose parents were Holocaust refugees from the Former Soviet Union – once sold homes, primarily to local clients in the Russian, Ukrainian and other Slavic communities. 
She realized just how many Survivors, like her own mother and her mother's friends from the FSU, had made Portland home and likely were eligible for reparations from the German government. 
"I knew these people," she said of the overall Survivor community. "If I didn't know them, they knew each other, like a chain."
Rita joined JFCS in fall 2008 and made it her mission to learn the complex and ever-changing parameters of the Conference on Jewish Material Claims Against Germany (known as the Claims Conference) and who in our community qualified to be on the receiving end of restitution rather than wrath.   
Fast forward to fall 2010: Rita had confirmed that roughly 30 Survivors qualified for reparations in the form of receiving services like homecare, cleaning, meals, medical devices and A/C units. One year later, JFCS' HSS received its first Claims Conference grant. Now, it could expand to provide social opportunities and social services to greater Portland's Holocaust Survivors.
This is particularly important given the very low incomes of many of our Survivor clients. 
"Our Holocaust Survivors are the most vulnerable group of people, elderly, sick, fragile, traumatized, and also most of them are low-income, on Social Secuity and Medicaid," Rita said.
Their status seems anathema to what they suffered to get here, to provide a better life for their children and grandchildren in a new country. And while the Claims Conference assists in many ways, its grant leaves a 35% hole in the costs required to properly care for our Survivors, a hole JFCS must constantly look to other sources to fill.  
Said Susan: "This team puts our clients first so that our Survivors get everything that they need."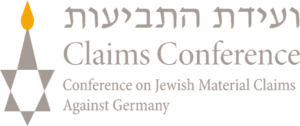 Social services for Nazi victims have been supported by a grant from the Conference on Jewish Material Claims Against Germany 
Meet Our HSS Team
Susan Greenberg
Deputy Director and Interim Director of Holocaust Survivor Services
In her HSS role, Susan oversees program staff, vets and secures vendors, fields community inquiries and supports Natasha and Sima's work to support Virtual Café Europa and JFCS' volunteer coordinator who engages community members to assist clients with tech support.
Alla Piatski
Bilingual Case Manager
Alla runs HSS' emergency aid program, sponsored by the Claims Conference and other sources. She also checks in with every client at least once a week; provides clients' needs assessments; translates documents to and from Russian and English; and connects Survivor clients to services outside JFCS' scope.
Marina Milman
Bilingual Scheduling Coordinator
Marina is a paperwork maven, scheduling for HSS' HAs and vendors that provide homecare, personal care and weekly meal delivery (including special foods for Jewish holidays). She also takes care of payroll and data entry, as well as arranges for Homemaker Assistants' training sessions.
Sima Borsuk
Claims Conference Coordinator
Like Rita, Sima is mired in the detailed rules and regulations of the Conference on Jewish Material Claims Against Germany (Claims Conference), ensuring HSS receives grants to carry out services and that its regular audits always are conducted and completed. Sima works alongside Natasha to grow Virtual Café Europa.