Mental Health Spotlight
Shining a light on community needs
JFCS is here to help with our introduction of Mental Health Spotlight. Its purpose? To shine a light on areas where all people – children through older adults, including self-identified disabled members of our community – struggle and can seek help.
Boosting social skills and navigating group dynamics, guided by professionals

 

We are here to help you shore up your resiliency against loneliness and isolation 
Some of our new workshop-style groups also are curated for those wanting to learn how to help their friends and loved ones through challenging times 
Mental Health Spotlight provides group-session and workshop options in the style of both Community Connection and our grief-processing group, Walking Beside You, that continues in spring 2022. 
JFCS' new Mental Health Spotlight is not one-on-one therapy. Rather, you can attend simply to be in community, dabble to see if this format works for you and gain access to JFCS' robust resources list, all in a safe online space. 
In keeping with JFCS' focus on inclusion, Mental Health Spotlight also provides access to a therapist on a sliding scale, as well as resources one may need outside JFCS' areas of expertise.
JFCS is engaged with B'nai B'rith Camp about shining a spotlight specifically on children and their increased mental-health needs during the pandemic. Both organizations have seen an increase in anxiety among and a need to support children in processing these changing times.
In partnership with the Eastside Jewish Commons, JFCS is planning a Mental Health Spotlight hybrid option for an in-person experience with separate engagement opportunities for children. 
But until the time comes where society opens up a little more, we invite you to log in and lean on Mental Health Spotlight sessions and workshops. Our expanded mental-health services may do wonders for your own mental health or for that of your loved ones. 
We look forward to hearing from you. Mental Health Spotlight will evolve; please continue to check back for updates to opportunities and schedule. For more information, contact Douglass Ruth, LCSW, CCTP, our Clinical Director, at 503-226-7079, ext. 124, or by email at douglassruth@jfcs-portland.org.
Mental Health Spotlight is possible with significant support from The Holzman Foundation.

Upcoming Events

Disability Mental Health Spotlight
Friday, May 13, 10 am on Zoom
Join our Counseling and Disability Support Services programs for an opportunity to share emotions about our changing world. This is the second session of an ongoing series for members of the disabled community. Email Shayna Sigman at ssigman@jfcs-portland.org to ask about access needs or for technical support.
***

Cancer Support Group
The 2nd Wednesday of every month
11 am on Zoom
Community is important. Cancer is lonely. Jewish Family & Child Service has combined these two truths to create this support group open to anyone with a cancer diagnosis. Click here to learn more or to register.
***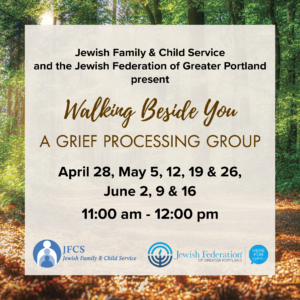 Walking Beside You: A Grief Processing Group
April 28, May 5, 12, 19, and 26, June 2, 9, and 16
11:00 am – 12:00 pm
Grief affects every part of our lives and can be a lonely road to travel on. We invite you to join us for an 8-week grief processing group for adults. In our virtual sessions, we will have the opportunity to share our own experiences with grief, connect with others, and learn strategies for moving through loss. Click here to learn more or to register.
***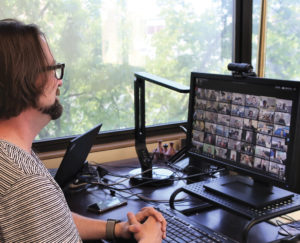 Weekly Video Chat
Every Friday at 10 a.m. on Zoom
Join JFCS for weekly conversations on Zoom about the challenges and anxieties of pandemic living.
Counseling
"Loneliness is difficult to own up to. But my counselor helped me understand that all I really need is a few friends I can count on – and who can count on me."